(this blog post also appeared on the website of EACD) An organization makes a decision, and you know for certain that it will cause turmoil. Why do companies take those kind of risks? Why do leaders make decisions that they know will cause commotion?
Companies frequently ask for my support in strengthening their reputation and issues management capabilities. In a presentation I held last week for about 100 professionals, I discussed why companies and their leaders seem to be so blind for reputational risks. I discussed 4 reasons why.
Reason 1. Group think. Who likes to oppose to the general opinion of the group?
A few weeks ago I led a discussion on a difficult issue. As an outsider, I was surprised that everyone was remarkably unanimous. After all, this was a hot topic. All sorts of reasons came on the table as to why these professionals had it all under control.
At first I didn't want to break the good ambience and I let it happen. But it didn't make sense. And so I named what I observed: group think. This intervention led to a more focused discussion.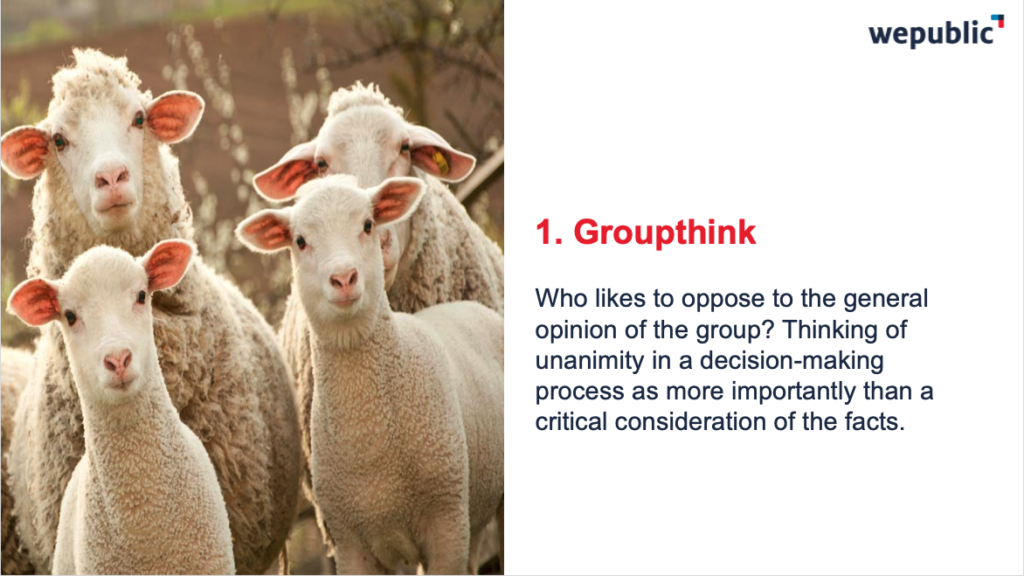 Reason 2. Filtering. Making sure that information matches with our thoughts and opinions.
There is so much information available. And yet we manage to filter out information which matches with our thoughts and opinions. "See, I am right!", we tell ourselves.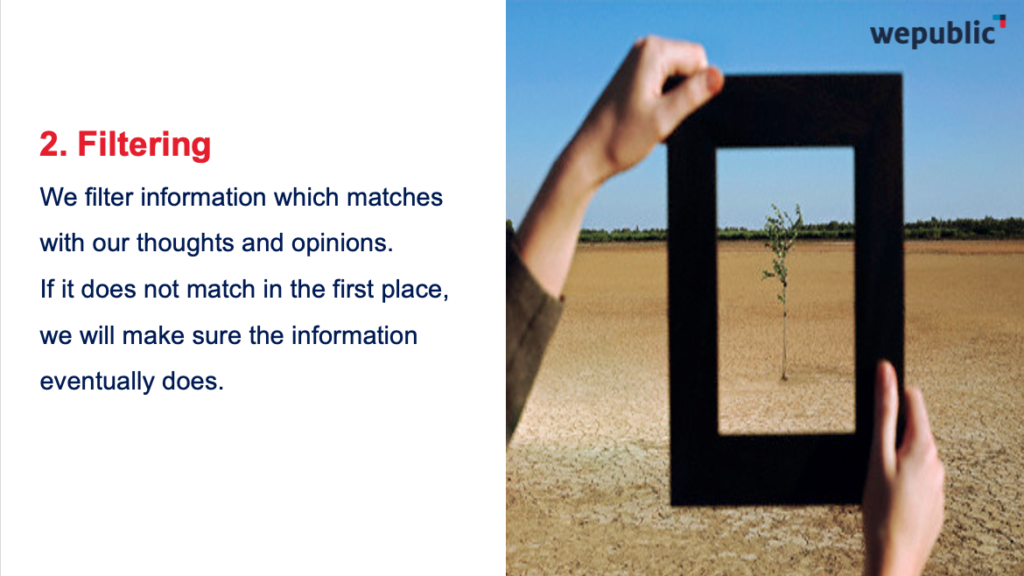 Reason 3. Bolstering. Searching for information which reinforces our point of view.
We tend to search for information which reinforces our point of view or opinion. This way we prove our point.
For example. Think of the Supervisory Board arguing that the CEO should have a salary raise and then engages an agency that confirms that idea based on benchmarking.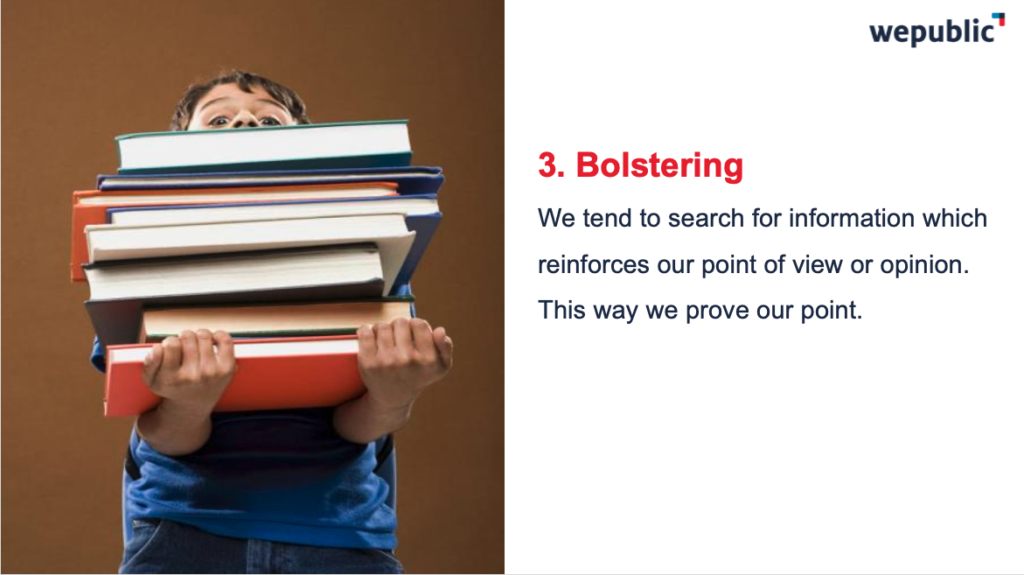 Reason 4. Wishful thinking. Believing what is convenient.
We base our beliefs on what could be convenient for ourselves or the situation. Thus our beliefs are not based on rationality or reality. A decision is made and we expect we can get away with it.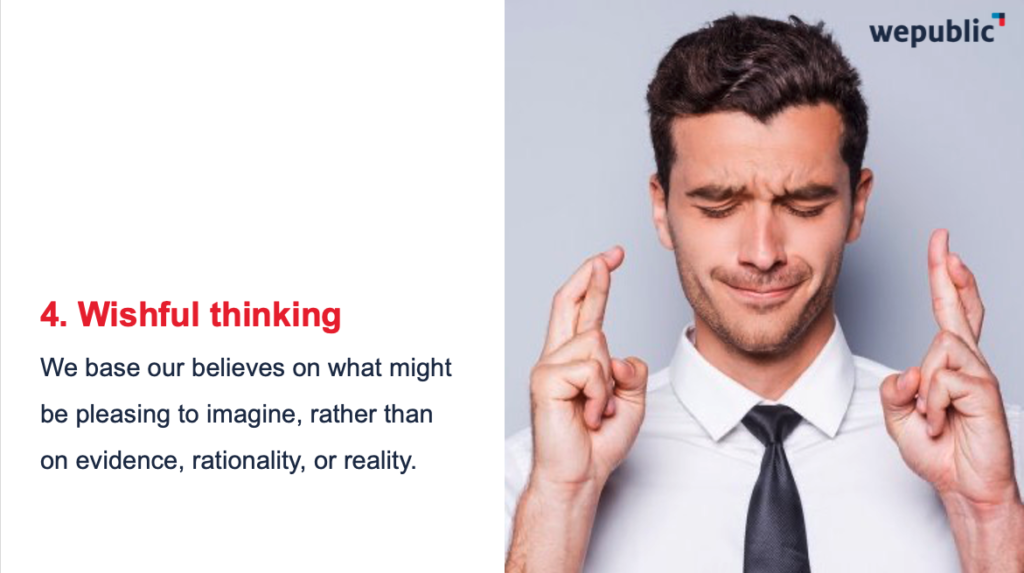 A short time ago I wrote a blog (sorry, in Dutch) about the importance of 'speaking up' and disagreement for a strong reputation and modern leadership. It is important to have a process in place for checking the fundamental assumptions behind important decisions and for evaluating the reputational risks involved. Thus preventing unnecessary damage.
Two weeks ago, an excellent letter was submitted in Dutch newspaper Het Financieele Dagblad by professor Femke de Vries (University of Groningen): "Embracing a troublemaker is good for the organization". De Vries marked something important: we must appreciate those who protect us from blind spots.
"The most important contribution will come from rewarding and appreciating those who really do speak differently. Just when our hackles raise, we should listen carefully. Because types like Omtzigt (FK: Dutch politician) should not be the black sheep, but the white raven in the organization that protects us from blind spots."  

Femke de Vries, Financieele Dagblad, 31 March 2021.
I wholeheartedly agree with professor De Vries. In too many companies there is little tolerance for the critical minded. And that is a terrible shame. Critical voices are vital to good reputation and issues management.
What you also might find interesting: